Hugo del Carril was the stage name for Pierre Bruno Hugo Fontana (1912-1989), an Argentinian tango singer, actor and film director.
While still young, Hugo del Carril became a popular radio personality in Argentina, and this eventually led to him to a career as a singer. Example of tunes strongly associated with him are: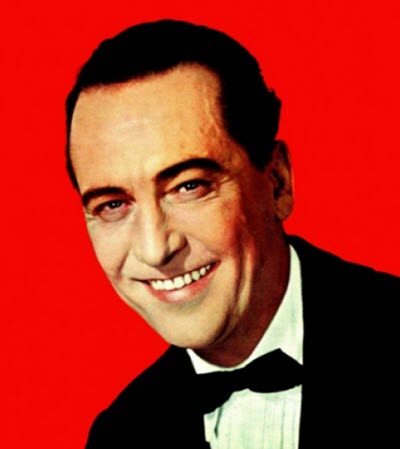 Al compás del corazón
Sosiego en la noche
Nubes de humo
Igual que ayer
Tres esquinas
Nostalgias
Desaliento
Nada más
Betinoti
As an actor, del Carril became a great success with the public from his very first movie appearance, and he quickly rose to be one of the nation's most popular movie stars. During his 40 year long career in the movie business, del Carril appeared in approximately 50 different movies, despite also being a director from 1949 to his retirement in 1976. For some movies, he was the producer, the director and one of the actors.
One of this most highly acclaimed movies was "Las Aguas Bajan Turbias" which premiered in 1952. In English, it was titled Dark River. Another well known del Carril movie is "Esta tierra es mía" from 1961 which participated in the 2nd Moscow International Film Festival.
Background
Pierre Bruno Hugo Fontana was born in Buenos Aires on 30 November 1912. His mother was Orsolina Bertani, the Argentinian-born daughter of the Italian anarchist Orsini Bertani. His father was Hugo Fontana, and architect from Milan, Italy,
The family was well off financially, but the parents separated when the son was still a child, and he was left to be raised by family friend.
Career
Early career
The Argentinian public became familiar with the voice of the young Hugo del Carril when he started working at the radio, although first as a speaker and not a singer. His love for music – especially singing – led him to take singing lessons from the opera soprano Elvira Colonese. He was also an estribillista in several radio orchestras at Radio del Pueblo, and performed in a vocal quartet with Emilio Castaing and Mario and Martín Podestá.
In the mid-1930s, del Carril recorded a series of compositions with the Edgardo Donato's orchestra, and his career as a soloist really took off when director Héctor Quesada brought him to Radio La Nación. In 1936, he recorded for Victor Records as a solo artist – with Tito Ribero handling the orchestra that accompanied him. Del Carril and Ribero were a great match, and Ribero quickly became del Carril's trusted musical director and adviser.
https://youtube.com/watch?v=DURyDAXhBTg%3Ffeature%3Doembed
A singer and an actor
Towards the end of 1936, del Carril appeared in the movie "Los muchachos de antes no usaban gomina", where he got a chance to showcase his tango singing skills with the tune "Tiempos viejos" (Old times) – a song composed by Francisco Canaro with lyrics by film maker Manuel Romero.
Del Carril's peformance in the movie was a great success and he would go on to appear in a wide range of films, such as "El astro del tango", "La piel de zapa", "Gente Bien" and "Madreselva". In the biopic "Vida de Carlos Gardel", he portraid the recently deceased French-Argentinian tango singer Carlos Gardel.
Parallel with his work in the movie industry, del Carril continued to sing for the radio and perform on stage, including going on tours nationally as well as abroad.
Director, scriptwriter and producer
In 1949, del Carril took the leap from being an actor to also being a producer, and later in his career he also wrote scripts and produced movies.
The first film he ever directed was "Historia del 900". Among all the films he directed, "Las aguas bajan turbias" is generally hailed as the best one. The screenplay was an adaptation of the author Alfredo Varela's novel "El río oscuro".
Many of the movies created by del Carril have been described by film critics as melodramatic, but ha had a big fan base that loved them despite, or because, of this.
Marcha Peronista
Politically, del Carril was a devoted peronista (i.e. a supporter of the Argentine president Juan Perón) and he composed the "Marcha Peronista" which became an anthem for the peronistas. When President Peron was overthrown in 1955, del Carril was blacklisted and exiled to Mexico. His exile was brief however, and he could soon continue with his career.
Later life
In the 1960s, it became clear that del Carril's career was in decline and he was no longer the energetic singer and actor of the past. Del Carril tried his hand at various projects outside of show-business, but the results were poor and his financial situation forced him back to the stage. He sung, did some recordings and occasionally appeared on television.
Even in the 1980s, when he was already formally retired, he would carry out tasking performances. There were many people in Argentina who remembered him from his heydays and continued to love his music.
Hugo del Carril died on 13 August 1989.